Blurb:
"Secrets never stay buried for long…
Lucy Harper has always been good at one thing: running from her past. But when her beloved Nana Lily passes away she has no choice except to return to the one place in the world she most wants to avoid…
Luna Bay hasn't changed much in the eight years she has spent in London. The little Yorkshire village is still just as beautiful, but the new pub landlord is a gorgeous addition to the scenery!
Lucy only intended to stay for a day, yet when she discovers that Nana Lily has not only left her a cottage but also 'The Broken Hearts Book Club', Lucy is intrigued. Her Nana never have mentioned the club and Lucy can't wait to get started, but walking into her first meeting she is more aware than ever that her past is finally catching up with her.
One way or another, Lucy must finally face the past she left behind – or spend the rest of her life on the run…"
After reading Lynsey James' fantastic debut novel, Just The Way You Are (read my full review here) she was well and truly on my radar as one to watch, and when I read the blurb (and saw the beeeautiful cover) for The Broken Hearts Book Club, I just knew I would love her latest story.



It's safe to say I wasn't disappointed,

this is a heart-warming, fun read full of friendship, love and mystery

.
The story follows Lucy Harper, who is back visiting her hometown, Luna Bay, following the death of her Nana. What was supposed to be a quick visit back for a funeral extends to a potentially permanent move, when she learns her Nana Lily asked for her to inherit her beautiful cottage, on the proviso she would take over The Broken Hearts Book Club in her place.
At first Lucy is torn whether to stay, but eventually the prospect of chairing the book club means that she decides to stay. I was so relieved she did, as Luna Bay is a brilliant sounding place, and I loved watching her settle back into her hometown.
Settling back into life in Luna Bay isn't as easy as she thought though, as Lucy is dealing with the aftermath of a massive
secret, that is referenced throughout the story. As a reader, the secret is shrouded with mystery until fairly late on in the story, we only really know it involves an accident involving her old best friend. Occasionally I wanted to scream at Lucy to let us know
what was going on, but really it was a great aspect to the story as it created suspense and a whole load of intrigue, especially when some residents of the village (and the book club) are downright nasty to Lucy, not wanting her to stay in Luna Bay because of her past, and the accident.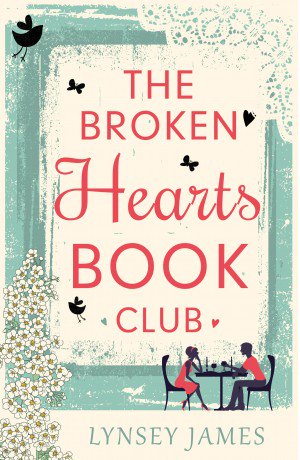 I loved watching Lucy immerse herself into the book club and start helping some of the members through their grief. Some of her suggestions do backfire, and you really feel for her as you know she is just trying to help. The book club really shows Lucy's kind hearted nature and I loved seeing her create some firm friendships that I thought were lovely.
One of the strongest points of Lynsey's writing style is her ability to create realistic dialogue. Seriously, it was like I was having a conversation with my friends most of the time. It's chatty and believable and really showcases the different personalities running through this book.
I also loved the romance element to the story. Lucy meets Jake, the local barman at the pub and there is an obvious connection from the offset. Although he's a bit of a grumpy bugger I was rooting for them to get together and be happy, as it was obvious from the offset they had a spark and connection. Jake, like Lucy, is also hiding a big secret, which explains his stressed-out, grumpy nature and provides some brilliant elements to the story. (I can't say too much or it'd ruin it!)

The Lonely Hearts Book Club is a brilliantly written, funny read brimming with down-to-earth characters, difficult situations and strong friendships. It's a feel good, charming
read that will leave a big smile on your face. I can't wait for more from Lynsey, she is an absolute gem.
*A big thank you to the publishers of this book, UK Carina, for an advance copy in exchange for an honest review.
Links: